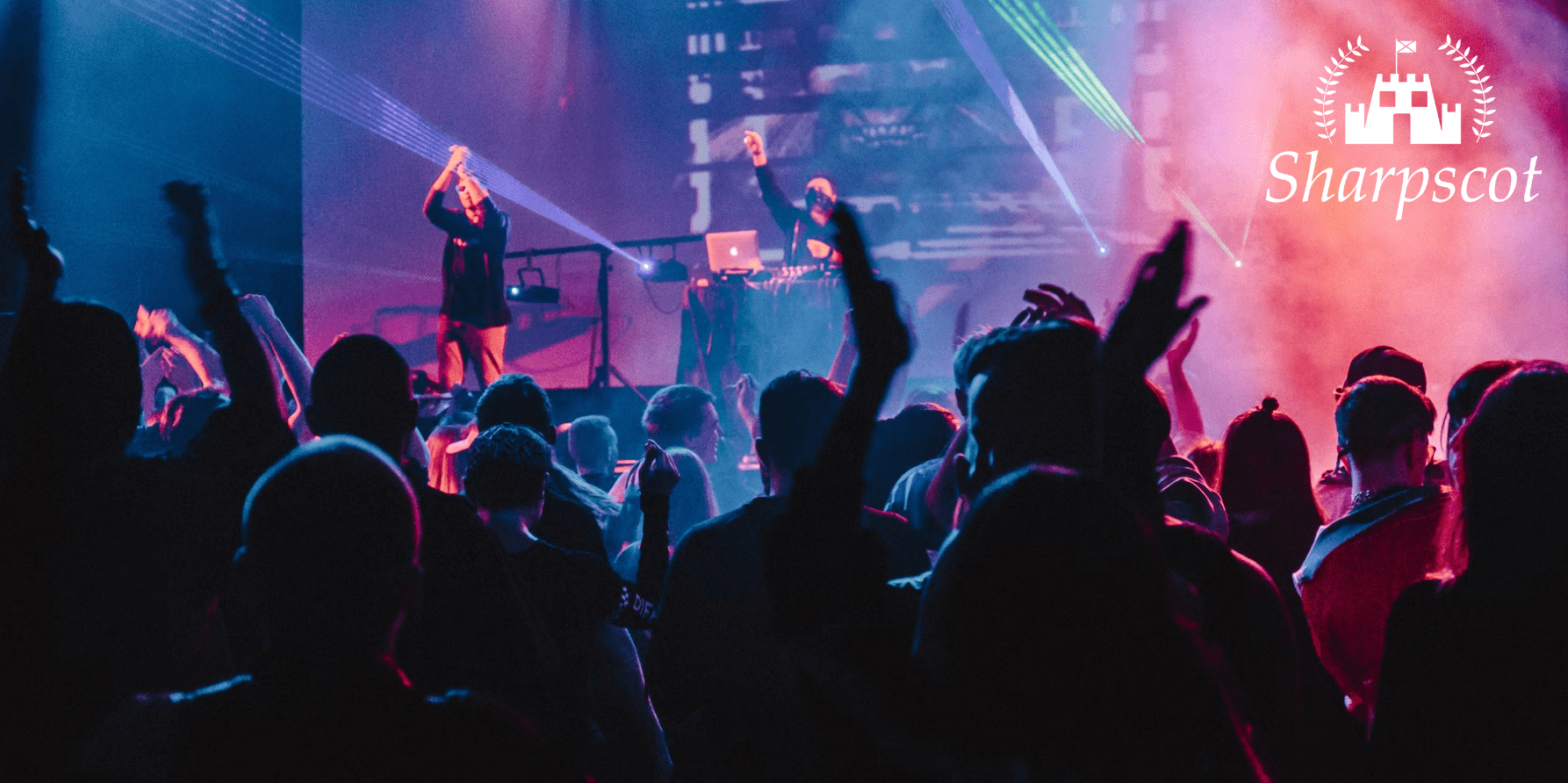 5 of the Best Clubs in Glasgow
How We Chose
Venue
Accessibility, amenities, and cleanliness will all be factored into the club's venue score.
Drinks
Clubs should have quality drinks that are worth what you pay for.
Entertainment
We also looked into the crowd, the entertainment, music, and the overall enjoyment clubbers can experience.
Security
Because there's lots of alcohol involved, we want to assess the rules implemented and the level of security in these clubs.
Cost
Finally, we included clubs that are at different price tiers but offer good value for money for more options.
1. The Garage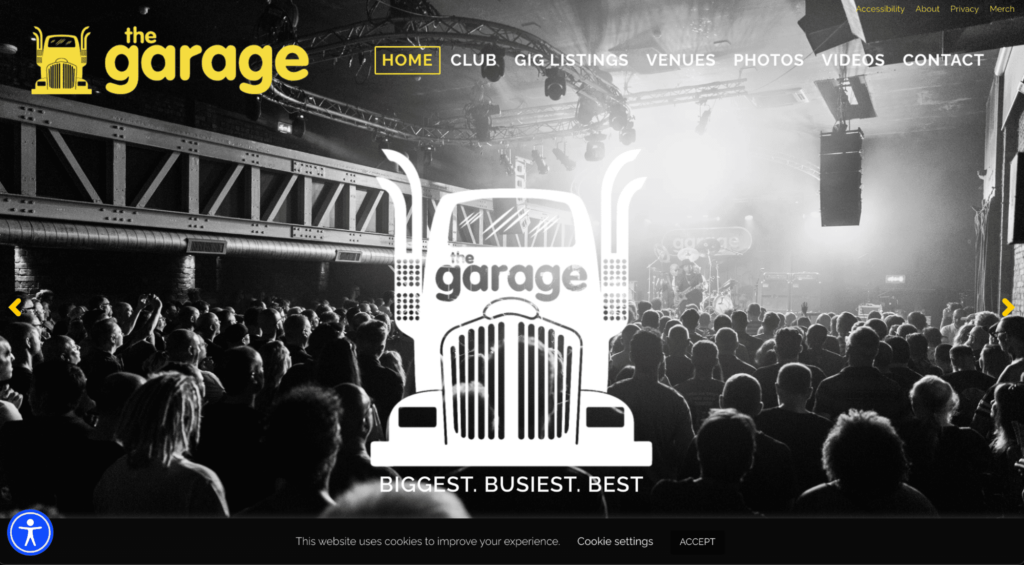 Website: https://garageglasgow.co.uk/
Main address: 490 Sauchiehall Street, Glasgow, G2 3LW
Schedule: 10:30 pm – 3:00 am
Contact information: 0141 332 1120
| | |
| --- | --- |
| Google Reviews | 3.4/5 |
| Yelp | 3.5/5 |
| TripAdvisor | 3.5/5 |
| Total Reviews | 3.4/5 |
| Score Consistency | 5/5 |
| | |
| --- | --- |
| Venue | 4/5 |
| Drinks | 3/5 |
| Entertainment | 5/5 |
| Security | 3/5 |
| Cost | 4/5 |
Open seven days a week, 365 days of the year
Diverse crowd of all ages
Six rooms with different genres of music playing
Popular gig place
Pricey entrance fee and drinks
Drinks are watered down by the end of the night
Unsanitary due to large crowds
Bouncers can be rude
If you ask anyone who's into the clubbing scene, they have probably been to The Garage in Glasgow. Arguably one of the biggest nightclubs in Scotland, it's on the bucket lists of people who are looking for a good time.
The Garage is famously open seven days a week, every day of the year. Although it has a very impressive 1800-person capacity, almost 2000 people try to gain entry every night, so don't be surprised if you find the place extremely packed.
Never a lack of entertainment, this club hosts over 150 gigs a year. If you follow their social media accounts or their website, you can snag some tickets to shows you're interested in seeing.
They have six rooms playing chart, dance, house, nostalgia, indie, hip-hop, and RnB music. Depending on the night, they might have all six rooms open – so your party is likely to find music that will suit your tastes.
However, The Garage is not without the usual club headaches. We have to subtract points for uncleanliness, pricey, and watered-down drinks later into the night.
There have also been reports of bouncers being unreasonable to customers, refusing them entry for strange reasons. We think this is something management should immediately look into, as it seems like a recurring problem.
Still, The Garage is sort of a rite of passage that's been around for 25 years. For groups headed to Glasgow, it's the place to go if you're looking for the quintessential club experience.
2. Sub Club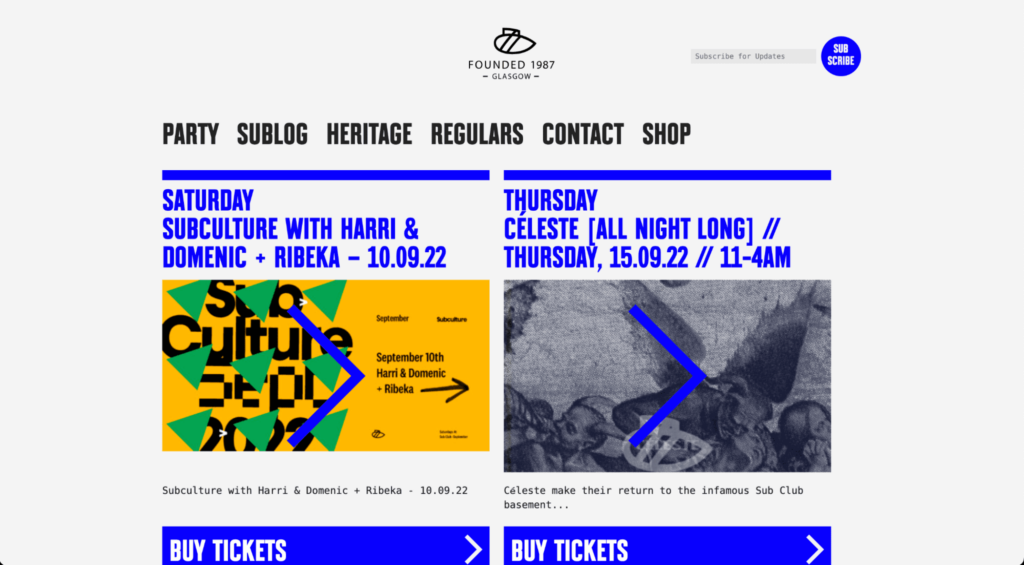 Website: https://subclub.co.uk/
Main address: 22 Jamaica St, Glasgow, G1 4QD
Schedule: 11:00 pm – 4:00 am
Contact information: 0141 248 4600
| | |
| --- | --- |
| Google Reviews | 4.3/5 |
| Facebook Reviews | 4.6/5 |
| TripAdvisor | 3.5/5 |
| Total Reviews | 4.1/5 |
| Score Consistency | 4/5 |
| | |
| --- | --- |
| Venue | 5/5 |
| Drinks | 5/5 |
| Entertainment | 5/5 |
| Security | 4/5 |
| Cost | 5/5 |
Accessible venue
Great roster of DJs, featured artists, and sound system
Open until 4-5 am
Affordable drink prices
Security unreasonably strict at times
Club management can come off as pretentious
A four-minute walk from the Central Train Station, a two-minute walk from the Underground Station, and a 20-minute drive from Glasgow International Airport, The Sub Club is heaven for club frequenters who are on the go.
Like The Basement, Sub Club is one of the longest-running underground dance clubs in the world. This 3,500-square-foot basement has been open since April 1, 1987, and can hold around 400 people every night.
It has two separate bar areas, with the main bar featuring a brutalist aesthetic complete with exposed brickwork, steel beams, and dim lighting. We like how the venue looks like a modernised and upscaled old-fashioned club.
They have regular in-house DJs but also keep an eye out for their featured artists. Sub Club also hosts events and afterparties – some even go on until 5 am, so you'll never be short of entertainment.
We have noticed, however, that security can get quite strict. Although it's generally a good thing, they sometimes don't let unfamiliar people in or will quiz them regarding the place or the DJs playing on that night.
That said, it's best to go with a regular or to purchase tickets online before heading to this club. We can see though that many people have been dissuaded by this method as it can come off as pretentious.
If you do plan on becoming a regular, you're bound to enjoy music by some of the best DJs in Scotland, reasonable drink prices, and a very unique ambiance that you can only experience here at Sub Club.
3. SWG3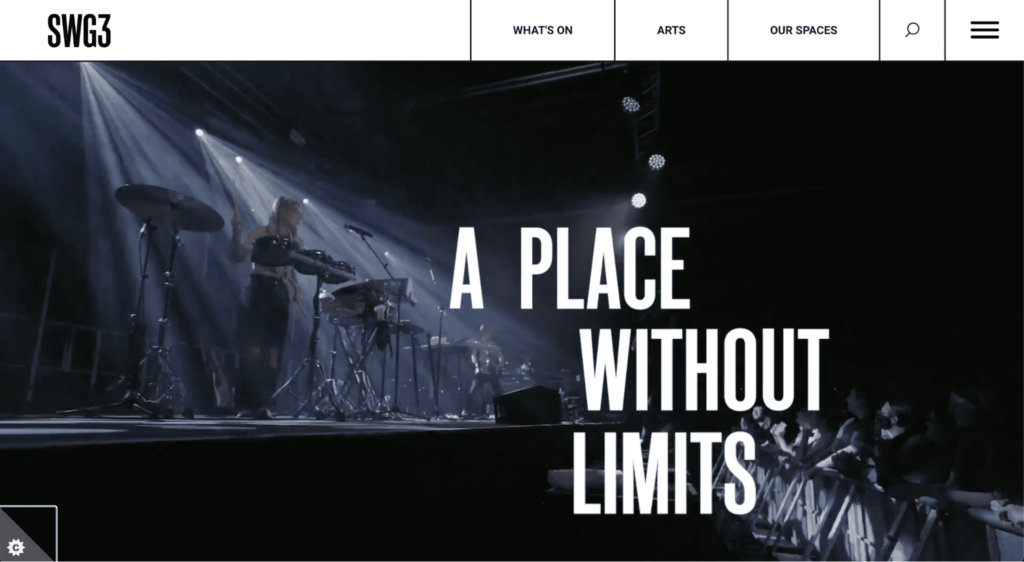 Website: https://swg3.tv/
Main address: 100 Eastvale Place, Glasgow, G3 8QG
Schedule: See website
Contact information: 0141 337 1731
| | |
| --- | --- |
| Google Reviews | 4.5/5 |
| Facebook Reviews | 4.6/5 |
| TripAdvisor | 4/5 |
| Total Reviews | 4.3/5 |
| Score Consistency | 5/5 |
| | |
| --- | --- |
| Venue | 4/5 |
| Drinks | 5/5 |
| Entertainment | 5/5 |
| Security | 4/5 |
| Cost | 4/5 |
Versatile art, music, food, and events place
Unique atmosphere and wide range of music
Affordable drinks
Way to the venue isn't well-lit and a bit dangerous
Management sells too many tickets
SWG3 is one of Scotland's most atmospheric places overflowing with art, design, music, fashion, food, and more. Of course, it wouldn't make it to our list without its unparalleled nightlife.
Formerly a galvanisers' yard filled with warehouses, it's now a distinctive independent venue. Depending on the schedule, the SWG3's Warehouse will always have either an up-and-coming artist, a sought-after headliner, or a mix of their favourite artists.
Inside you'll find sprawling, open spaces and cement walls that are sometimes decorated with art. At night, these spaces are occupied by people clubbing, drinking, dancing, and having a great time.
The place is also equipped with an impressive sound system that allows the music to shine. And although entrance fees can get quite expensive depending on the event, drinks are quite affordable.
However, it's located at the end of the dark street, which can get sketchy especially if you're going in a small group. They also sell more tickets than what their capacity can handle, so be prepared to be in cramped crowds on busy weekends.
Overall, SWG3 draws cool kids from around Glasgow and beyond – so if you're looking to meet new people who share the same interests in art and music, it's a fantastic option for you.
4. Popworld Glasgow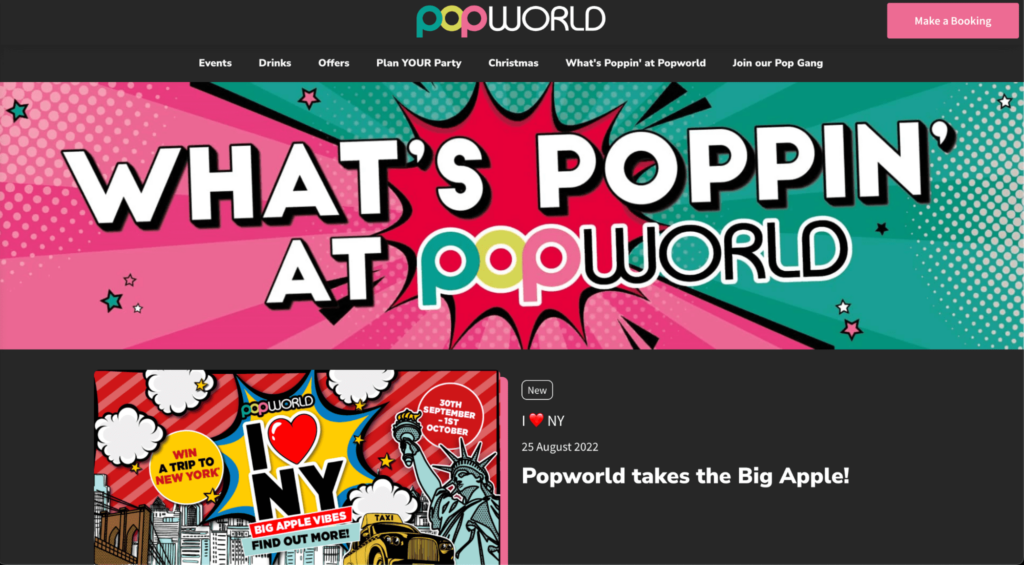 Website: https://www.popworldparty.co.uk/glasgow
Main address: 110-114 West George Street, Glasgow, G2 1NF
Schedule: Thu 9:00 pm – 3:00 am, Fri 8:00 pm – 3:00 am, Sat 7:00 pm – 3:00 am
Contact information: 141 332 9724
| | |
| --- | --- |
| Google Reviews | 3.9/5 |
| Facebook Reviews | 3.9/5 |
| TripAdvisor | 3.5/5 |
| Total Reviews | 3.7/5 |
| Score Consistency | 5/5 |
| | |
| --- | --- |
| Venue | 3/5 |
| Drinks | 5/5 |
| Entertainment | 5/5 |
| Security | 4/5 |
| Cost | 5/5 |
Special pop music from the 80s-90s
Unique retro-themed interior
Cheap drinks
Strict dress code
No proper cloakroom
Security inside the club is quite lax
Problems with cleanliness
If you're into the good old music from the 80s and 90s, you're going to find Popworld Glasgow to be a lot of fun. They're well-known for their flashy dance floor, vibrant decor, retro inflatables, and unmatched party buzz.
People often head to Popworld for celebrations such as office party nights, hen and stag parties, and birthdays, among others. They're conveniently located in the City Centre area, which makes them accessible by various modes of transportation.
Make sure to dress smartly – no hoodies, trainers, or sportswear, otherwise they might refuse your entry. This club wants to maintain its standard in terms of the overall aesthetic, so it's best to go here with that in mind.
Because it's a retro-themed bar, also expect folks of different ages. We think it makes for a nice, inclusive atmosphere, but it's best to go with a group of friends to dodge older clubbers who potentially have malicious intentions.
That said, the club does not have a proper cloakroom, which is a hassle for people with bags or winter coats on them. The flooring and carpets have also been reported to have a lot of spilled drinks on them, but management has yet to address this.
Thankfully, we have noticed that the club is responsive to customer ratings online and are constantly trying to improve. Plus, drinks are cheap and the staff is generally fun and attentive.
Partygoers who love pop tunes from different eras are sure to have a blast singing and dancing in Popworld Glasgow.
5. The Berkeley Suite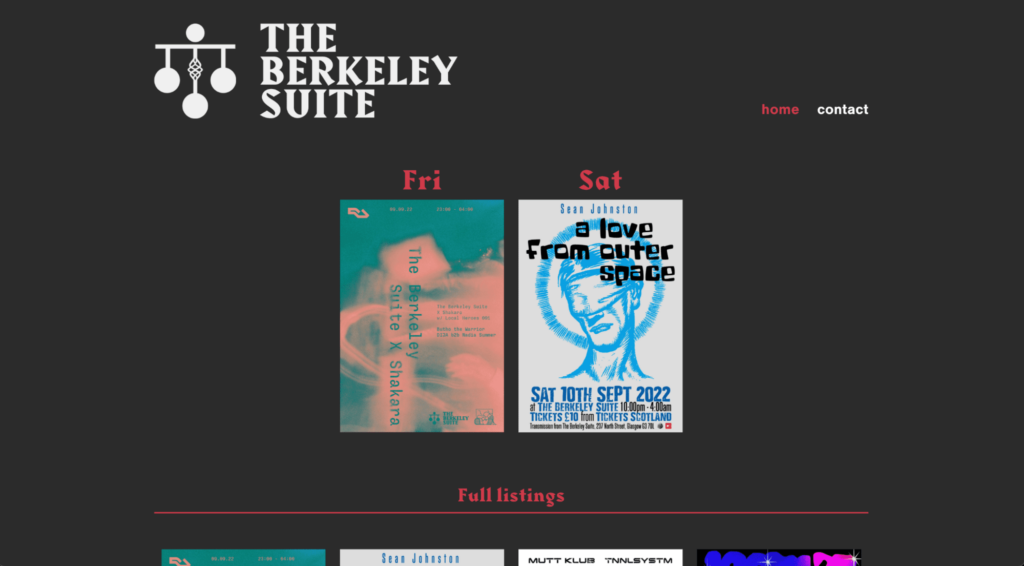 Website: https://berkeleysuite.com/
Main address: 237 North St, Glasgow, G3 7DL
Schedule: 11:00 pm – 3:00 am
Contact information: 0141 221 2451
| | |
| --- | --- |
| Google Reviews | 3.9/5 |
| Facebook Reviews | 4.4/5 |
| TripAdvisor | 3.5/5 |
| Total Reviews | 3.9/5 |
| Score Consistency | 4/5 |
| | |
| --- | --- |
| Venue | 4/5 |
| Drinks | 5/5 |
| Entertainment | 5/5 |
| Security | 3/5 |
| Cost | 4/5 |
If you're looking to go somewhere a little more elevated, then look no further than The Berkeley Suite. From the name itself, you can tell that it's a quaint place that attracts a different kind of crowd than the usual clubgoer.
Located in the City Centre, The Berkeley Suite is a sister venue to the secret bar Chinaski's. Upon entering, you are greeted by a stunning art-deco-meets-classic-theatre interior complete with velvet chairs and chandelier lighting.
If you make a reservation or get there a little early, you can settle down in their plush booths and grab some food and drinks before the party gets started. Contrary to how expensive the place looks, prices are quite reasonable.
Later in the night, you can enjoy music from some of the most renowned DJs in the area. If you like electronica, disco, punk, or house, there's sure to be a night meant for you, so be sure to check out their website for the full monthly listing.
However, it's a bit hard to find, so make sure to keep an eye out or ask around when you're in the area. It's also a very dark and dingy place that can get pretty crowded, which is the perfect environment for theft or misconduct to happen.
It's best to not go alone because security can get a bit lax. However, we hope management improves on this aspect as the club offers a lot of potentials.
If you want a change of scenery, The Berkeley Suite is a unique speakeasy nightclub that's very versatile in terms of crowd and music. Plus, it's open Monday to Friday until 3 am, which makes it a great choice for a nightcap as well.
FAQs on clubs in Glasgow