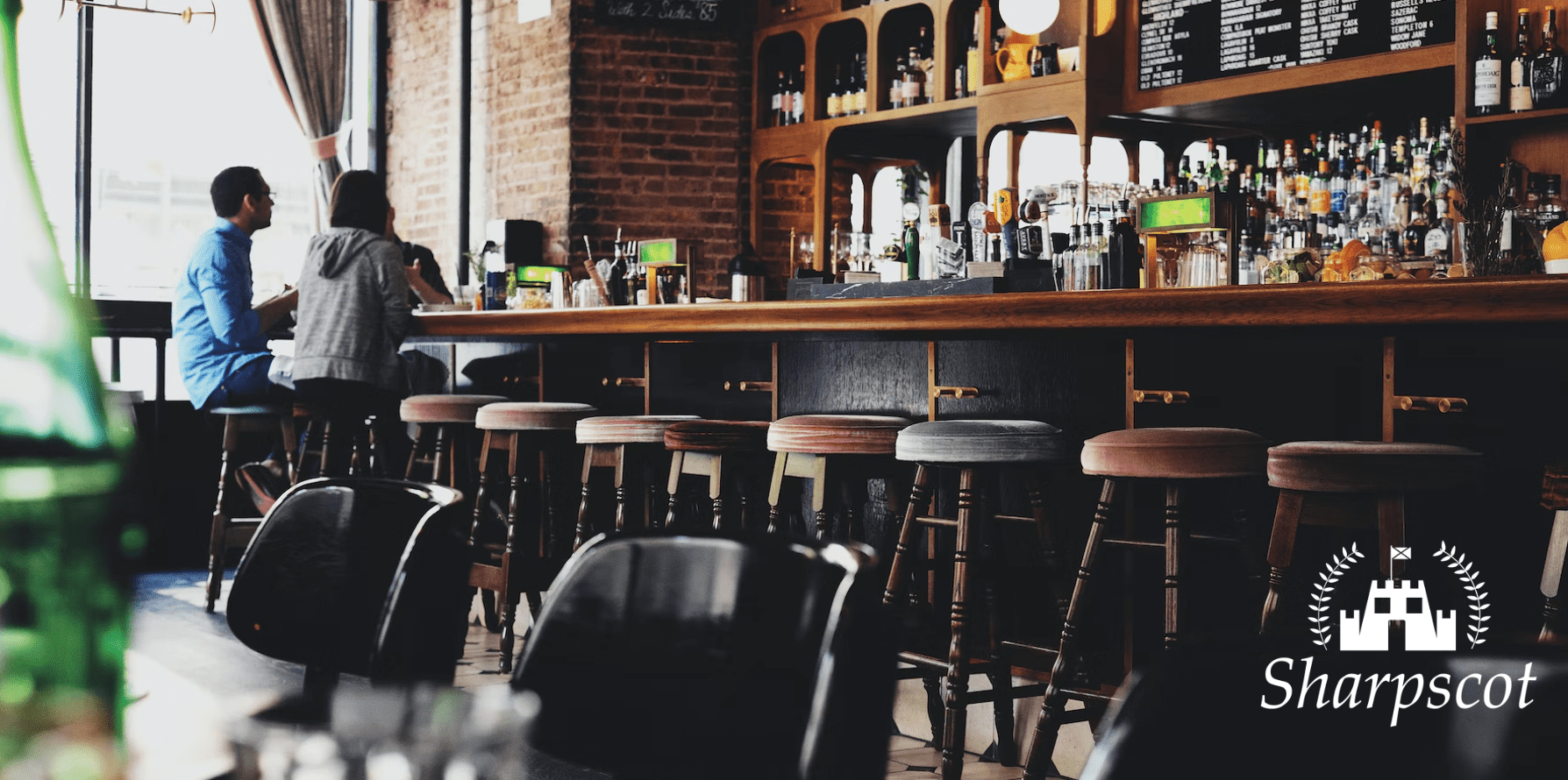 5 of the Best Pubs in Edinburgh
How We Chose
Venue
Factors like accessibility, interior design, cleanliness, and overall ambiance are important considerations when rating a pub venue.
Menu
A good pub should have a good range of proper food and drinks.
Service
Of course, we assessed the level of service these pubs can provide and rated them accordingly.
Price
We also made sure to include pubs that are at different price points to give our readers variety.
1. The World's End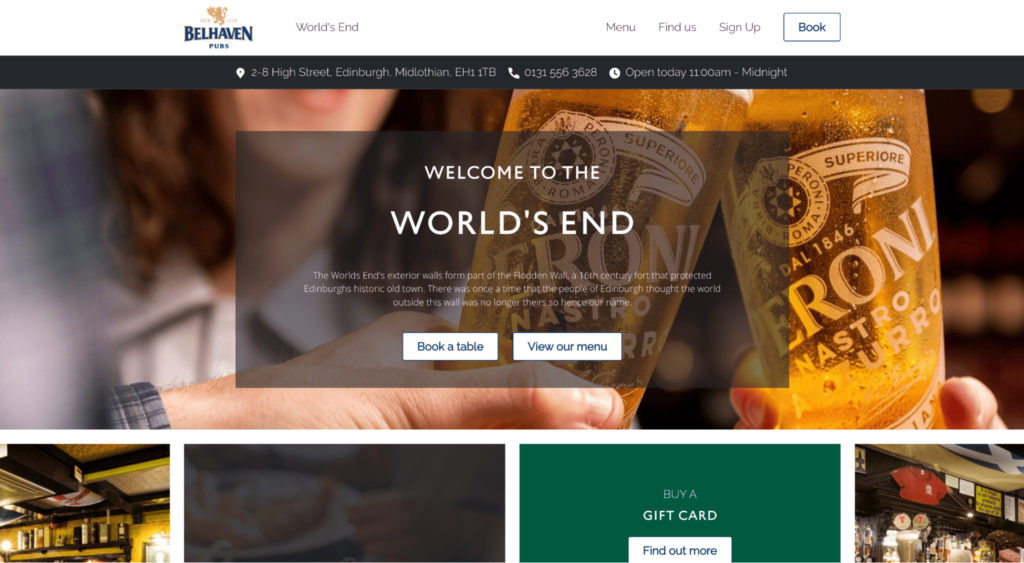 Website: https://www.belhavenpubs.co.uk/pubs/midlothian/worlds-end/
Main address: 2-8 High St, Edinburgh EH1 1TB
Schedule: Sun-Thu 11 AM-12 AM, Fri & Sat 11 AM-1 AM
Contact information: 131 556 3628
| | |
| --- | --- |
| Google Reviews | 4.5/5 |
| Yelp | 3.5/5 |
| TripAdvisor | 4.5/5 |
| Total Reviews | 4.1/5 |
| Score Consistency | 4/5 |
| | |
| --- | --- |
| Venue | 4/5 |
| Menu | 5/5 |
| Service | 4/5 |
| Cost | 4/5 |
Open until 1 AM
Great food and drinks
Major part of Edinburgh's history
Small seating capacity
Overfriendly staff
Strict no-kids policy
The World's End is one of Edinburgh's most famous pubs and tourist destinations, thanks to its history and location. It has been in business since the early 1800s, and tourists and locals alike have been flocking to make memories here for over 200 years.
Their building's exteriors form part of Edinburgh's ancient Flodden Wall which protected what is now known as Edinburgh's historic Old Town. For residents, everything beyond it was no longer part of their world – hence the pub's name.
The World's End has a small dining and bar area, which gives the place a more intimate and old-fashioned feel. Their menu features traditional Scottish picks such as their world-famous Fish & Chips, Steak & Ale Pie, and their Cullen Skink Soup.
They also have a wide range of alcoholic drinks. You can choose between classic Scottish Malt Whiskies, Cask Ales, an extensive wine menu, and many others, making The World's End a perfect destination to end your day.
But as mentioned, this club is quaint and has a small seating capacity, so it's best to go in groups of four at the maximum. Moreover, there have been reports about the staff being overfriendly and out of line at certain times.
And while The World's End may seem like a 'family-friendly' establishment, they have a strict no-kids-allowed policy. There are other options in our list that will let children in, so it's best to head on over to those instead.
All in all, The World's End is a small but quaint pub rich with history. Drop by for a meal, a round of drinks, and maybe even check out their famed T-shirts and other merchandise.
2. Nauticus
Website: http://nauticusbar.co.uk/
Main address: 142 Duke St, Edinburgh EH6 8HR
Schedule: Mon-Fri 3 PM-12 AM, Sat-Sun 2 PM-12 AM
Contact information: 131 629 9055
| | |
| --- | --- |
| Google Reviews | 4.8/5 |
| Facebook Reviews | 5/5 |
| TripAdvisor | 5/5 |
| Total Reviews | 4.9/5 |
| Score Consistency | 5/5 |
| | |
| --- | --- |
| Venue | 5/5 |
| Menu | 4/5 |
| Service | 5/5 |
| Cost | 4/5 |
Convenient location and beautiful interiors
Great selection of beverages and seafood-themed meals
Live entertainment every night
Menu is pricier than the average
Place can be packed at peak times
Serves mostly seafood dishes
Nauticus is one of the few Seafood-themed pubs in Edinburgh and has been a go-to for seafood lovers for over a decade. The pub is located at the heart of the city, and it's near the university and financial district, making it widely accessible to many.
The pub's priority is to feature produce from Scotland or owned by a Scottish company, which we love. Their menu also has strong ties to time periods in and around Leith, such as tea and spice routes, the gin craze, and others.
Nauticus' interior is also quite the looker, with modern dark wood floors, white walls, and maritime-themed decor. Like most pubs, live entertainment is included every night, with performers that range from rock to country, to electronica.
The pub also features a vast selection of drinks, including beers, wines, spirits, and cocktails. Of course, they have very popular seafood dishes, such as their Blackened Haddock, Grilled Salmon, and Seared Tuna.
They serve mostly seafood dishes, so if that isn't your cup of tea, then it's better to skip this pub if you're looking to enjoy a meal. And because they're located so close to the city centre, you might find it difficult to snag a table at their peak times.
Keep in mind, though, that their menu isn't as cheap as others and they have a no-takeout policy. But you'll be greeted with some of Edinburgh's best local brews and spirits, so why not let loose for a bit?
All in all, Nauticus is the perfect place to enjoy fresh seafood and delicious beverages that are sure to please any palate. It's got a beautiful and modern interiors to boot, so it's a great venue to hang out with friends and family, too.
3. Sheep Heid Inn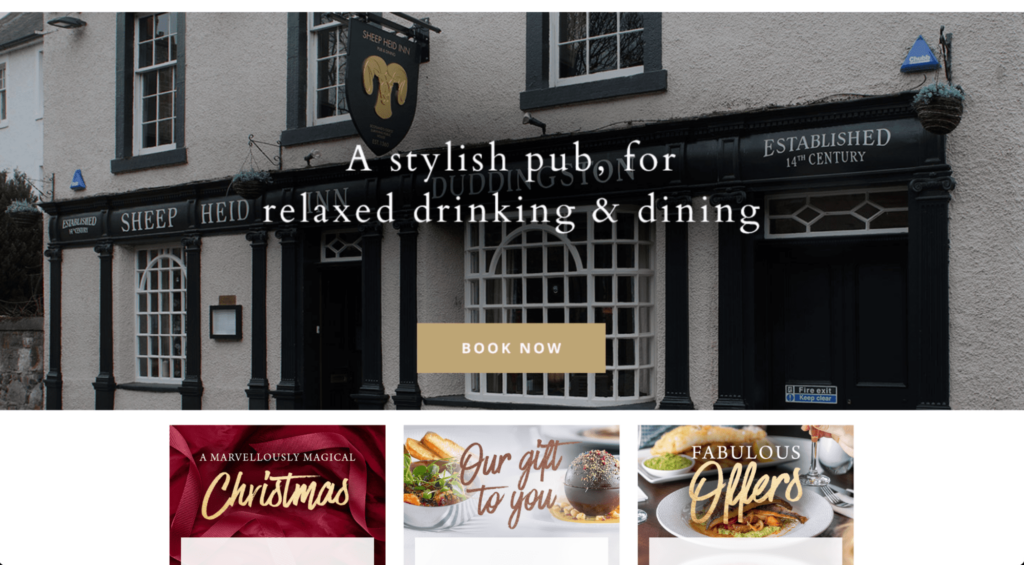 Website: https://www.thesheepheidedinburgh.co.uk/
Main address: 43-45 The Causeway, Edinburgh EH15 3QA
Schedule: Mon-Fri 12 PM-11 PM, Sat-Sun 12 PM-10:30 PM
Contact information: 131 661 7974
| | |
| --- | --- |
| Google Reviews | 4.4/5 |
| FourSquare | 3.8/5 |
| TripAdvisor | 3.5/5 |
| Total Reviews | 3.9/5 |
| Score Consistency | 4/5 |
| | |
| --- | --- |
| Venue | 4/5 |
| Menu | 5/5 |
| Service | 4/5 |
| Cost | 4/5 |
Complete with an inn, restaurant, pub, gift shop, and bowling alley
Accessible from the Royal Mile and Grassmarket
Very family-friendly
Almost always packed
Expensive menu
Venue has bad mobile reception
Closes early
If you're looking for the quintessential Scottish experience, then look no further than the Sheep Heid Inn. The inn-turned-hotel has been open since 1360 and is complete with a bustling restaurant, pub, a gift shop, and a rentable bowling alley.
This pub is located in the middle of the Old Town, so it's only a few minutes walk from the Royal Mile and the Grassmarket. We appreciate that it has a big parking area that's very dog-friendly, too.
It also has a comfy and cosy interior that makes it a great place to enjoy a pint with friends and family. And if the weather is pleasant enough, you can opt to be seated out on their terrace.
The Sheep Heid proudly serves alcoholic beverages and traditional Scottish and British cuisine. It's most especially known for its haggis, neeps, and tatties – traditional Scottish fare featuring sheep's offal that's prepared similarly to black pudding.
For the less adventurous diner, you'll be glad to know that they also serve more modern dishes, such as Pan-fried Sea Bass and Beef Stroganoff.
If you're looking for a place that allows children, that'll be your best bet – in fact, there are plenty of families with children that spend their weekends here, which gives it a different vibe. It feels more like a family-friendly restaurant than a pub.
Much like The World's End, the Sheep Heid Inn is included in so many travel brochures and has become a tourist attraction, so it's best to make a reservation. Still, expect the place to be quite packed and the service to be slower than usual.
Moreover, the mobile reception is quite bad, due to its location being behind Arthur's Seat. The Sheep Heid Inn is also one of the more expensive options on our list, so be prepared to splurge a bit.
But the Sheep Heid Inn still holds the highest score on TripAdvisor, and it provides fabulous service and facilities to this day. We'd say it's definitely worth checking out if you're around Edinburgh.
4. Hector's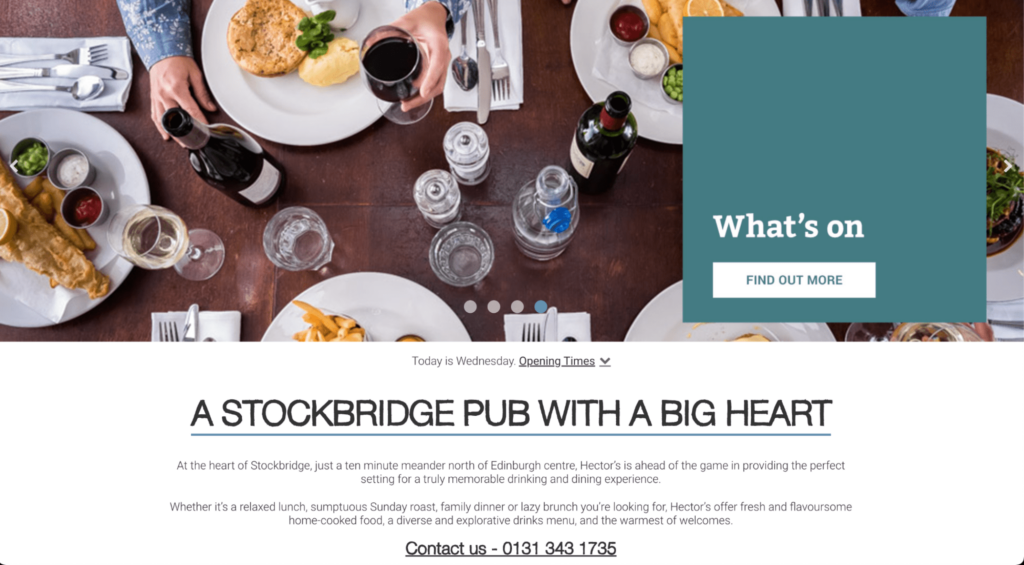 Website: https://www.hectorsstockbridge.co.uk
Main address: 47-49 Deanhaugh St, Stockbridge, Edinburgh EH4 1LR
Schedule: Mon-Thu 11 AM – 12 AM, Fri 11 AM – 1 AM, Sat-Sun 10 AM – 1 AM
Contact information: 131 343 1735
| | |
| --- | --- |
| Google Reviews | 4.3/5 |
| Zomato | 3.9/5 |
| TripAdvisor | 4/5 |
| Total Reviews | 4/5 |
| Score Consistency | 5/5 |
| | |
| --- | --- |
| Venue | 5/5 |
| Menu | 4/5 |
| Service | 4/5 |
| Cost | 5/5 |
Gorgeously decorated interiors
Pet-friendly
Features homegrown ingredients, seasonal menus, modern cuisine
Affordable but generous food portions
Food quality can be hit-or-miss
No minors after 7 PM
Hector's is a mix of modern and old, a pub that's been serving locals and sightseers for almost twenty-five years now. Located on the main area of Stockbridge's Deanhaugh Street, you can head to this pub after checking out charity shops and deli stores.
The place has large windows that illuminate the curved window seats perfect for lone diners, but there are also long benches and velvet footstools at the back for larger groups. We also love that Hector's is dog-friendly!
They serve plenty of homegrown specialties, seasonal menus, as well as more modern additions. Customers have also repeatedly noted that portions are on the larger side while still being reasonably priced.
Hector's also serves fantastic beverages, from premium draught lagers to ciders, to unique craft beers served on tap. They also offer more sophisticated wines, artisan spirits, and of course, a variety of cocktails created by their bar team.
Do note, however, that they have a strict 'no minors after 7 PM' policy. Food quality also seems a bit hit-or-miss, which we think management should keep an eye on.
The good thing is that Hector's isn't always as packed as other places, especially on weekdays. The serving staff has also been reported to be very accommodating and quick on their feet even during peak hours.
Overall, Hector's is a gorgeous little pub in a more peaceful environment, which makes for a relaxing stay. This is a top choice for pet parents and families who want to drop by without reservations.
5. The Last Drop
Website: https://www.nicholsonspubs.co.uk/restaurants/scotlandandnorthernireland/thelastdropgrassmarketedinburgh#/
Main address: 74-78 Grassmarket, Edinburgh EH1 2JR
Schedule: Mon-Fri 12 PM-12 AM, Sat & Sun 12 PM-1 AM
Contact Information: 131 225 4851
| | |
| --- | --- |
| Google Reviews | 4.3/5 |
| Facebook Reviews | 4.6/5 |
| TripAdvisor | 4/5 |
| Total Reviews | 4.3/5 |
| Score Consistency | 5/5 |
| | |
| --- | --- |
| Venue | 4/5 |
| Menu | 4/5 |
| Service | 4/5 |
| Cost | 4/5 |
Convenient location
Award-winning pie house specialities
Rich in history
Venue is a bit run-down
Not a lot of vegetarian options
Food runs out on weekends
Finally, we have The Last Drop, which is another pub that's rich in history. This unique pub is located right next to the old execution site.
You read that right – according to rumours, the Last Drop is where men were taken for their last meal before being brought to the gallows.
Their name is a reference to the last hanging held in Grassmarket in 1864. The pub's atmosphere is nowhere as grim as it used to be and is now famous for its enticing food and drink menu.
Working with the latest seasonal ingredients and flavours, their pie houses are a must-try, as they serve award-winning Steak and Nicholson's Pale Ale Pie, and newer additions such as their Wild Boar and Chorizo Pie.
Of course, they have an extensive main food menu with classics as well. They don't hold back with drinks either, featuring an extensive whisky range, a gin palace, and a variety of casks.
Due to the pub being in place since the 18th century, the place is a bit run-down. The place is also run by Nicholson's, but their beer list is a little limited compared to other pubs.
This is also not the place to go if you are vegetarian, because their smaller kitchen limits their food options. During weekends you might also find that a lot of dishes on the menu are no longer available, so we recommend phoning them or coming in earlier.
That said, The Last Drop is a wonderful pub for history lovers who want to bask in its old-timey atmosphere. It's also situated right in Grassmarket, so it's a convenient place to end your Nicholson's Edinburgh Ale and Gin trail.
FAQs on pubs in Edinburgh